Contracts
City of Cincinnati Project
---
Jacobs Creek Job Corp
Project Total:  $102,648
Description: Work for this project requires the contractor to be responsible for supplying all labor, materials, equipment, utilities, miscellaneous items, freight and delivery and all necessary valid licenses and permits for the work summarized as follows:
Grade adjustment of manhole covers and manhole rehabilitation at the Jacobs Creek Job Corps Civilian Conservation Center.
Other work may include removal and replacement of sewer pipe and installation of concrete collars around manholes in gravel parking areas.
---
USFS IDIQ
Project Total:$4,000,000
Description: Work consists of construction of bridges, roads, streets, and railways as well as any repairs as necessary for the US Forest Service. All work is issued via work orders.
---
Burn Pad Lift Station
Project Total: $315,000
Description: Schwarz Construction designed and built a lift station capable of abating soluble lead from storm water runoff at the burn pads. The intent of this project is to isolate and capture storm water runoff from burn pads and pump the effluent to the Wastewater Treatment Plant.
---
Water Operations
Project Total: $924,975
Description:  Operation and Maintenance of 0.72 Million gallons per day water treatment plant.
---
Fiber Optic Improvements
Project Total: $239,966
Description: Installation of various strands of fiber optic cable throughout a Federal Facility located in Kentucky.
---
WTP-WWTP-Boiler Repairs BPA
Project Total: $750,000
Description: Work consists of test and repair of back flow preventers, repair and replace leaking water valves and fire hydrants as necessary, supply components and repair leaking water distribution system piping repair or replace auto-flushers as needed to maintain acceptable levels of residual chlorine in the water distribution system. Repair roads when water leaks occur underground. Replace and repair damaged manhole covers as necessary. Repair of Lift Stations as needed to maintain proper functionality. Repair of boilers, boiler components, and boiler steam lines as needed.
---
BGAD IDIQ
Project Total: $1,000,000-$5,000,000.
Description: Work consists of various construction work orders including maintenance, utility work. To date Schwarz Construction has completed a Lift Station Installation and the replacement of a Generator.
---
Design/ Build Water Main & Supply Recap Phase 1
Project Total: $3,999,516.05
Replace and construct new water mains at various locations from the WTP to the end of the water distribution system.
Install water meters and sonic leak detectors at critical water main locations to transmit data to the operators for managing consumption and detect leaks.
Install a Filter Control System to automate the quantity and quality of water through the filters and to improve the reliability of the water delivery system, reduce water consumption, and improve filter performance.
Upgrade existing Supervisory Control and Data Acquisition (SCADA) control system at the WTP to incorporate any proposed improvements to the distribution system.
Replace 2 ea. 500 GPM and 1 ea. 250 GPM, and add 1 ea. 250 GPM high service pumps located inside the pump gallery at the WTP.
Install baffles inside the clear well and mixing units inside the fire reservoir to improve the water quality inside these storage systems.
Analyze the water distribution system.
---
Design/Build Membrane Filtration
Project Total:  $3,998,065.28
Design and Engineer an addition to the Water Treatment Plant to house new membrane filtration process equipment. The work described in this project consist of the building addition and all utilities within the footprint of the building.
Furnish and install an ultrafiltration hollow membrane packaged plant capable of treating 720,000 GPD. Furnish and install pretreatment equipment including a flow meter, strainer, area to connect chemical feed lines, static mixer, and flocculation system. Connect the equipment to the raw water supply from Lake Vega and potable water storage/distribution systems.
---
Design/Build Water & Wastewater Systems Operations
Project Total: $3,997,140
Operate water collection, treatment, and distribution systems
Operate wastewater collection and treatment plant (WWTP)
Analytical testing
---
Water Treatment Recapitalization 2
Project Total:  $3,965,494.25
Renovate the Water Treatment Plant into office and storage space and perform site improvements to the area around the Water Treatment Plant. Project also includes all utilities outside the building addition line.  The building addition that will house membrane filtration equipment along with the utilities inside the building.
Design and Engineer renovations to the existing Water Treatment Plant to accommodate office and storage space.
Site Work includes all necessary yard piping, including water, storm drainage, natural gas, and sanitary sewer services to the Water Treatment Plant  and building addition; a new asphalt driveway for the Water Treatment Plant addition, repaving the existing asphalt driveway where damages, and relocating or replacing the fence at the Water Treatment Plant.
Renovation of the existing Water Treatment Plant structure as necessary to provide additional office and storage space. Work includes removing pipes and valves for the sand/anthracite filters, patching concrete, removing and install doors, walls, cabinetry, and paint.
---
Boiler Maintenance
Project Total:  $1,597,004.18
The work consists of furnishing all labor, materials testing equipment, tools and replacement parts to perform normal operations, routine preventative maintenance, emergency repairs, and off-season maintenance to 13 boilers located throughout the Blue Grass Army Depot, Richmond, KY.
---
Winona Dam
Project Total: $529,400.00
Furnish all labor, material, equipment, and supervision to lower the crest of the Winona Reservoir Dam and construct a stable spillway. Work includes excavation and removal of dam material, disposal in the adjacent area, and construction of a stable spillway.  Based on site conditions, the crest shall be lowered between 20'-30' in elevation, with a bottom (spillway) width of 50' and 1 V:2H side slopes.  The spillway shall be constructed at a 4% grade, with a low flow channel and riprap armoring and/or grade control structures.
---
Chem Demilitarization Lift Station
Project Total:  $227,000.00
Design and provide all labor, material, and equipment to replace the interior components of the Chemical Demilitarization Lift Station located on Rt 2. Replacement lift station shall have a valve vault to connect a standby pump along with a larger impellor on the new grinder pump.  Project also includes repair or replacement of the Automatic Transfer Switch (ATS) located on the generator electrical supply at the lift station.
Replace the 60KW natural gas generator that provides backup emergency electrical service to Communication Hut 80.
---
Dam Investigations & Repairs
Project Total: $95,762.02
Investigate possible seepage through the entire dam via a geophysical survey. Geophysical survey needs to include both the dam and the existing ground downstream of the "Large Hole" on the right side of the dam (looking downstream) shown on the COE "Site Sketch of Lake Buck".  Provide results of investigation.
Investigate possible seepage through dam via a geotechnical survey based on the results of the geophysical survey described in item 4.2 above. Geotechnical survey will include 200 vertical feet of rock boring to locate any anomalies inside Lake Buck Dam.  Provide results of investigation along with recommended grouting locations, and assist Government in awarding grouting specialty contractor.
---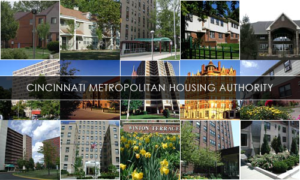 Cincinnati Metropolitan Housing Rehab
Scope: Supplied all materials and labor necessary for the rehabilitation of several single family units for Cincinnati Metropolitan Housing . Project consisted of replacing all deteriorated masonry, as well as the replacements of roofs, framing, and drywall.
Total Cost: $1.9 Million
---
Covington KY Airport Digester Tank Motor installation
Scope: Schwarz Construction furnished a crane and set the Digester Tank Motor mixer and all accessories.
Project Total: $65,000.00
---
Great Onyx Job Corps Center Electrical and Roof Replacement Project
Scope: This project involves the replacement of the vocational storage building roof as well as numerous electrical upgrades throughout the facility including lighting, Panels, and switches.
Project Total: $254,000.00
---